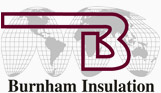 Phone: 412-348-0356
Fax: 412-366-0154
E-mail: [email protected]
Burnham Insulation Sales
3229 Babcock Blvd.
PIttsburgh, Pennsylvania 15237, USA
ABOUT US
Company History
Burnham Insulation Sales, Inc. was incorporated in Pennsylvania, USA in 1994, and has experienced sustained exponential growth since its inception. Burnham has successfully managed the insulation requirements for numerous high profile national and international projects including LNG facilities, petrochemical plants and oil refineries, stadiums, power generating facilities, hospitals, domestic and foreign military bases, as well as countless commercial and industrial facilities. The founding principals have grass roots knowledge of the industry, working early on as insulator apprentices, maturing their technical knowledge through practical applications and experience, and acquiring university credentials.

Our Staff is our Finest Asset

Burnham Insulation is very fortunate to have exceptionally talented professionals which pursue an intelligent yet common sense approach to managing your insulation requirements and schedules. Their strengths are logistics, exceptional product and applications knowledge, responsiveness, developing value added business strategies for customers, a tireless work ethic, and each order/inquiry is managed with the appropriate sense of urgency and priority.


Corporate Officers:

Mike Burnham
President

Sean Burnham
Executive Chairman of International Business